Last Man Standing Hire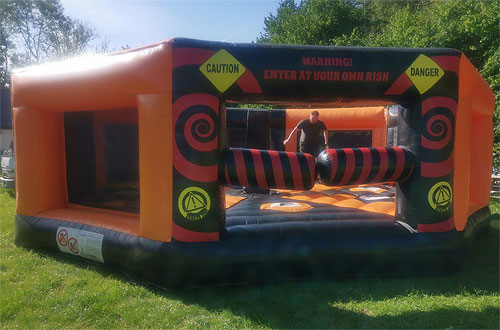 Last Man Standing Hire Carmarthenshire Welcome to our new inflatable fun hire item known as Last Man Standing Hire. Our Last Man Standing is a large piece of equipment suitable for a wedding, schools, Corporate, Staff Parties, Christenings, Family Gatherings, Armed Forces Fundays, and University, School & College Events to name a few.. 8 players/ Contestants take a place on the foam podiums and the arms begin to spin slowly or fast. The object is to duck or jump over the arms and stay on your podium. Not as easy as it looks. The key to success in this game is to maintain your balance; by carefully shifting your weight and adjusting your posture, you can stay on your feet and be the last one standing, proving that you have the skill and agility to keep your balance and come out on top. It is great exercise and perfect for team building in Carmarthen, Ammanford, Llanelli, Aberystwyth, Narbeth, Lampeter, Swansea, and all of Wales.
£600


Our last man standing hire is staffed for your event in Wales.
Our friendly staff will make sure everyone is ready, which is 8 people at a time, then the arms will roll. You must stay on your podium and jump or duck and stay on your feet. The last one standing is the winner.

If you are looking to hire the brand new Last Man Standing Attraction in Carmarthenshire, Pembrokeshire, Cardigan areas or anywhere along the M4 such as Llanelli, Cross Hands, Ammanford, Bridgend, and Swansea today, you have found the right place. We can supply inflatables & attractions for parties, kids' fun days shows & events, so have a look at our extensive range.
Total wipeout sweeper hire for Caravan Park entertainment hire read more
We have found that this is very popular amongst the caravan parks along the Welsh Pembrokeshire and Ceredigion coast and other areas. We can source any other party equipment including bouncy castle hire, Bungee run hire, Giant game hire, large water slides, an exciting assault course for those looking for a more thrilling experience, Sumo suit hire and gladiator duel, photo booth, rodeo bull and some form of party catering for the guests. We offer great hire packages that can include catering for new and returning customers across Wales. Our staff are trained to set up all types of inflatables, mechanical rides, and Bouncy Castles in a safe manner which offers extra peace of mind.
Hire Last Man Standing Inflatable for parties and money-raising events
This is great fun for adults and children alike as part of an inflatable package along with our inflatable assault courses, bungee runs and rodeo bulls. Call us today to arrange a fun hire package that suits your needs and budget. We are happy to help.