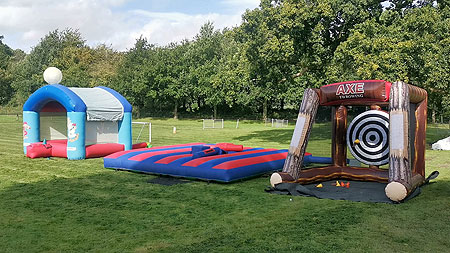 Giant game hire across Wales
Giant Garden Games & Lawn Games For Hire across Wales from Fun Hire Wales, such as classic giant darts, hand buzzer, giant connect 4, buzz wire, nerf guns, and giant Jenga. Do you want to hire giant games for an unforgettable multiplayer birthday party or a BBQ in the UK? We got 'em! We offer superior Giant game hire service with a wide variety of interactive giant games and retro fun foods, ensuring the safety of our inflatables and providing an extraordinary experience for both kids and adults alike, so you can be sure that your event will be a memorable one for your guests and customers!
Inflatable giant game hire specialists

Our Giant Games hired individually or as an Exhibition area can be hired throughout Wales and have proved most popular in South Wales recently for events in hotels and bars.
Fun Hire Wales has a growing selection of 'fun for all ages' giant garden games available for hire across Ceredigion, Pembrokeshire, Carmarthenshire, Bury Port, Llandeilo, Llanelli, Swansea, and Bridgend areas in South Wales. Our skilled team is dedicated to offering a vast collection of giant, party games to suit any preference and occasion, including the most popular noughts and crosses for schools, ball games for clubs, and team building activities to create a perfect hire package.
We are happy to include the items listed for a reduced cost (depending on the size of your order and your location) with larger bookings or large bouncy castles. Our friendly staff will attend to your request when you ring, and we will do our best to make you happy with our promotions. Book with ease online or contact us direct for more information.
Inflatable game hire for every occasion
We have everything for your party get-togethers, weddings, team building events, school fêtes, university freshers weeks, and corporate events. With our wide range of vintage and modern inflatable and electronic games, our team ensures the highest safety standards for our inflatables while providing excellent service to our customers. Whether it would be a giant connect to test your strength on our high striker, test your aim with our giant starboard, all kick 'and' stick, which is massive for any football tournaments and charity days, or gather players up for a chance to compete in a team. The sports theme continues with testing your power on our electronic boxing machines and if you want to really up the game, we have more options available for your larger events. Then, when it comes down to a one-on-one challenge, we have a gladiator duel, we have sumo suits, we have a pit stop challenge to test your nerve and accuracy.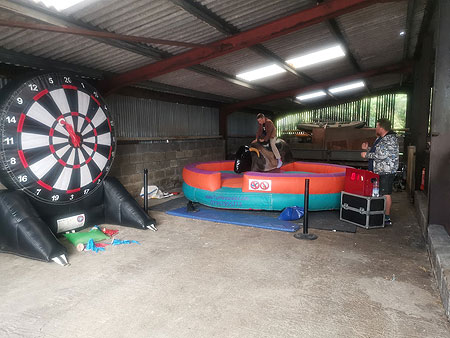 Have you ever thought about axe throwing? Why not choose our inflatable axe throwing game which is safe for everyone and no one can get their head cut off, being very impressive and over 10 feet. Rolling with that theme, we also have a large school football goal. Going from that, then you can go inside as the day goes on and enjoy a challenging pluck a duck race where you have electromagnets and you must either beat the clock or each other by retrieving the ducks from their holes. If that's not enough, why not have a go at the giant buzzer hand that will test your nerves and skill with its large metre-standing electro hand with sound effects and countdown music. Side stalls are also a popular choice in any fate wedding theme, corporate day school, college, and university get-togethers. First, we have our very popular duck hunt where the aim of the game is to knock the ducks off-the-shelf with ease not needing any electricity, brilliant for any venue or space. Besides that, we also have fish in a bowl where you can either use it as a prize or a lucky dip game, brilliant for your charity days fundraising events.
Add Photobooth hire to your giant games hire
We also offer photo booth hire to capture the fun and spirit at any event, wedding, or celebration. There is always great amusement seeing a group of family or guests pulling silly faces and poses with the assistance of our experienced staff!
Inflatable Bungeerun hire is the ultimate giant game hire!
Bungeerun Hire has 2 lanes, one person against the other and themselves! Great for team building or sports clubs. If you want to learn more read here.
Help with your Giant Game Hire
If you cannot find something that you like then we will try and source it but think we can create a package to suit most people and are always coming up with new fresh ideas for game hires.
Weeding Event Catering across Wales
If you need high quality hog roast, bbq, wedding and event catering then please contact our sister company https://www.hoggetshogroasts.com/