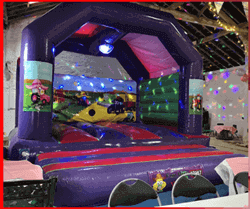 Farm Disco Castle hire
Fun Hire wales have a disco bouncy castle for hire with a Farm theme all with lights and music!

This farm disco-ready bouncy castle is suitable for children and adults alike and it has a quality rain cover to ensure nobody gets caught in the rain if your hire is outdoors.
It can play music from your phone etc and has disco style lights at the top. Kids do tend really enjoy jumping around to their favorite music.

Farm Theme for boys and girls: For those parents that want to add to the farm theme for their children's birthday party we have a green combo Slide and Bouncy castle tractor available for hire as well as farmyard softplay shapes. All can be hired separately or together as part of a Farm themed Children's Party that really stands out. Please 07967 955773 ring for details and the best prices.
Farm Theme Bouncy Castle for hire with boy and girl tractor graphics.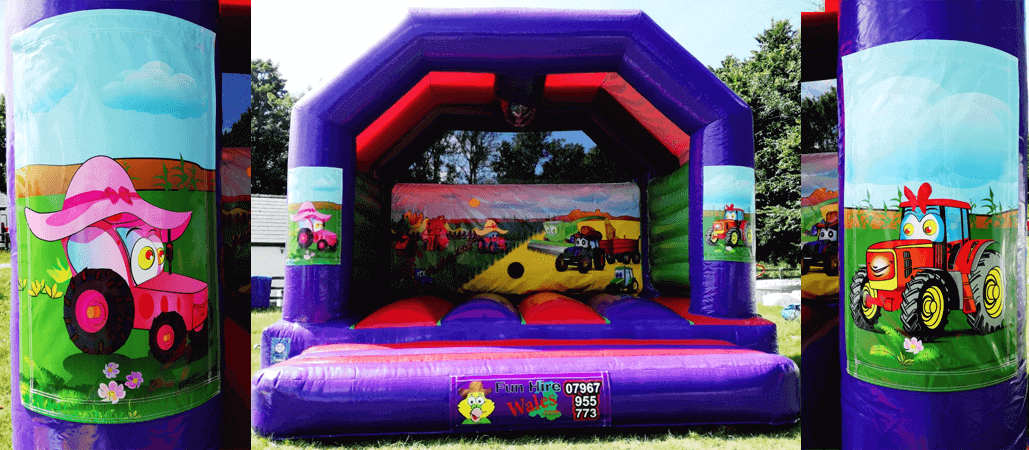 £135
All major credit cards accepted. Hassle-free booking.

You can read our frequently asked questions page for more information and book using This email address is being protected from spambots. You need JavaScript enabled to view it., Facebook message or phone thanks
The more bouncy castles and or add-ons you order the more you save.