Sea Themed Combo Bouncy Castle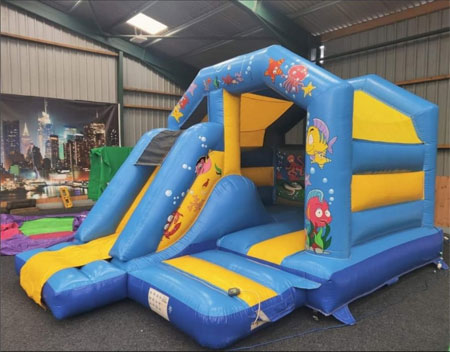 The Sea Themed Combo bouncy castle with slide combines 2 of the most popular items we offer for hire. This brightly coloured inflatable provides the perfect bouncing area to bounce along with friends, whilst the slide provides entertainment for the rest of the guests at the same time and certainly won't break the bank.
£140

The Item is perfect for both indoor and outdoor hire. The Under the Sea-themed artwork is very realistic and absolutely fantastic quality, ensuring this inflatable is perfect to make your little one's big day.

The inflatable is decorated with beautiful seashells, coral, urchins and sea creatures giving it a realistic beach-like feel and making it the perfect addition to any child's birthday party, allowing them to feel like they are playing on the beach and collecting seashells.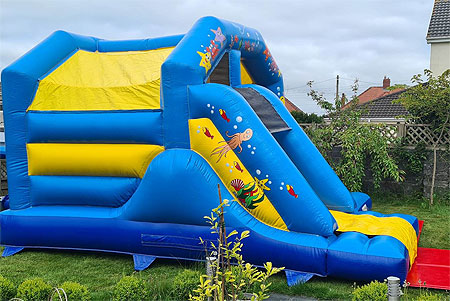 Our packages offer a wide variety of options to make your little one's big day even more special, from an inflatable with very realistic and absolutely fantastic quality, to a selection of fun activities and decorations to add a unique touch to the celebration.
Sea Combo bouncy castle for any occasion
Sea Combo bouncy castle is perfect for entertaining a birthday party of around 15 children at any one time (not all at once, of course) and is a really good slide choice is your planning a small school gala or summer fete where the smaller age range needs to be catered for.
The bounce and slide combo is a brilliant attraction and a really good way to draw visitors to your event, fete, fair, school gala, pub, club, shopping center or simply for a bit of light-hearted fun at a private party event or birthday bash. Quickly inflated, this item will provide hours of fun for many events & its new compact design ensures it's accessible to all locations, including indoors. Call us today and see what we can do to make your event extra special for the party goers.!
Bouncy castle set up/ installation & Safety
Castles are safe to use and carry the necessary industry safety standards thanks to our sister company https://mobilepipatestingwales.co.uk/; they provide testing services for bouncy castles, obstacle courses, inflatable games and other inflatables on a hard surface either indoors or outdoors, such as playgrounds, sports courts, and other recreational areas, to ensure the safety of the users. We are fully Pip registered and test our own bouncy castles ourselves.
Suitable similar themed Inflatables
Underwater Theme Octopus Castle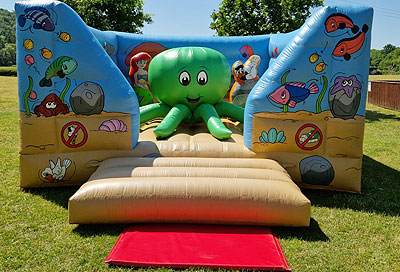 Blue inflatable soft play surround with shapes and hoppys