Inflatable Baseball Strike Target Game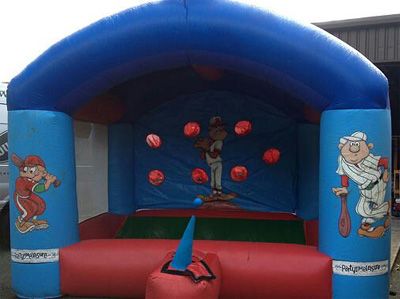 Inflatable Baseball game is Ideal for fetes, parties, fun days, promotions, etc. This side stall game can be part of our larger selection of large giant game hire. Baseball Strike is an inflatable target type game that's suitable for all ages from 6 upwards and is guaranteed to prove very addictive!

The object of the game is for the participant, using a safe foam baseball bat, to try and strike the ball from the airstream into one of the target holes and avoid the 'run out' holes.

This all sounds straight forward but even hitting it is easier said than done! Very addictive and lots of fun!

If you want more information about inflatable baseball, fill in this form. We will get back to you as soon as possible.
This inflatable side stall hire game requires an operating area of 16ft wide by 18ft deep.
PLEASE CLICK BELOW FOR OUR ONLINE BOOKING SYSTEM, AVAILABLE DATES & PRICES


You can read our frequently asked questions page for more information and book using This email address is being protected from spambots. You need JavaScript enabled to view it. or phone thanks
<< Back to Giant Games Hire Page
As well as our Inflatable Baseball Strike Hire, Below are more of our available to hire giant and garden games to help bring your party or event come to life