Giant Themed Inflatable Assault Course Hire
Welcome to fun hire Wales and one of the large selection of Inflatable Assault Course Hire to be had. All Inflatable Assault Course Hire is cleaned after each use and ready for hire upon request across Carmarthen, Aberystwyth, Lampeter, Swansea, Llanelli, Aberaeron, Cardigan, Crymych and other areas of Wales.



With so many different events and occasions, it's sometimes hard to pick the right Inflatable Assault Course Hire to suit you and your hire requirements. Breath easy as here is a selection of our Inflatable Assault Course Hire options that can be adapted for all ages and use whether it being indoor or outdoor. Also if you have a birthday party or a large family gathering they're also good to entertain the children and adults with not a lot of area being taken to entertain.
Giant Inflatable Assault Course Hire Booking
Booking an Assault Course with Fun Hire Wales is really easy! You can check availability and book online 24 hours a day using our secure, easy to use, booking system. Simply look through the required options in thr main menu find the hire product perfect for you and your event, click on the 'book online' button toward the bottom of the page, and we'll do the rest. Alternatively, we are here for you 7 days a week; so call us on
or email us at This email address is being protected from spambots. You need JavaScript enabled to view it. and we'll get back to you as soon as we can.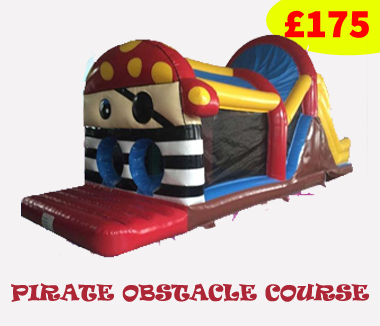 New for 2021 is our Pirate Obstacle course
Here we have an awesome pirate obstacle course brilliant for anyone's birthday party whether being the boys or girls.
Brilliant from ages from 0 to 12.
What is it having sight you start with entering through the portal hole and you will be met with a large bouncing area and bish and bash so that you can have a good old swashbuckling fight you will notice each side of the play area is fully netted for the visibility at all times can be kept on the little pirates.
Then you are met with soft steps and handles to climb up to the large slide which then they will exit to the rear of the assault course where they will run round and start their adventure all again.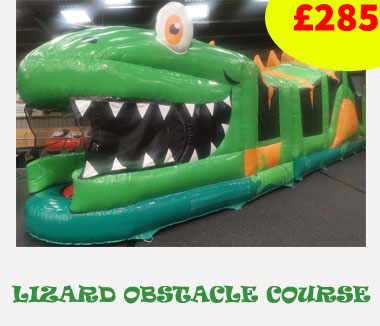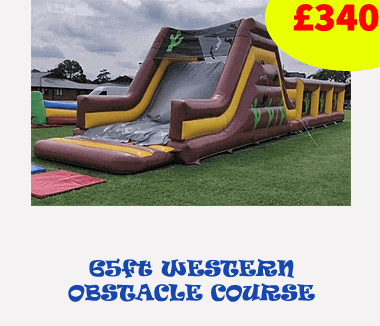 Western Themed 65ft assault course hire
It is a high-energy inflatable assault course where you have to run either as a pair in a race or against the clock or just for fun at a leisurely pace, either indoors in a leisure center or a sports field or park or similar because this is 65ft long!.
You are first presented with a few biff and bash cacti to slow you down then duck under a bar before getting to more biff and bashes. You then have a large climb of 3m up some multi-coloured foam steps to the top of the slide.
This inflatable will bring the WOW factor to your party or event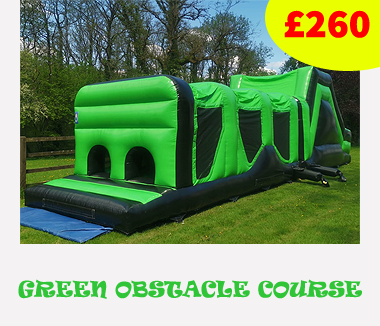 We have our large 60 ft Hulk Inflatable Assault Course Hire that comes in two parts. This ever-popular Inflatable Assault Course Hire course which is suitable for all ages with two entrances at the front with a bish and Bash up and over to give you that little bit of resistance and fight through if you're having a competition with one another who can win in then going into an up and over style slide to come out of the end this is very popular with The Scouts, Girl Guides Army cadets and fitness and boot camps to see how their fitness stamina is when they compete against each other or just to have a laugh!.

This can also be used to generate sums of money for charities or organisations because of the fast-flowing flow of the people going through it making it a really good money earner.

Being made by one of the top manufacturers in the world it's safe to say that this will be suitable for all weathers indoor or out if you are looking for something bigger to entertain we also do a selection of It's a Knockout another large equipment please ask for further details.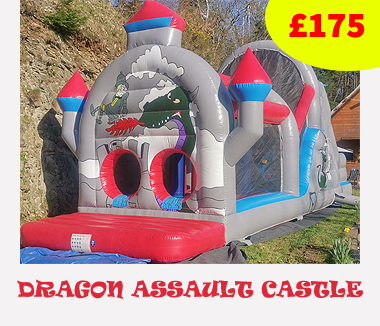 Dragons Night assault course hire is great for children's themed parties or just as the main attraction at an event wedding etc.

With it hand-painted knights and Dragons on the front it really does stand out and give that wow factor to really impress everyone to see it, at the front there are 2 entrances so that you are able to race each other then you were met with a large bouncing area with bish and bash to fight with then you have the climbing wall which is soft, coloured padded squares and handles so that you're able to climb up to get to the top of the slide and then slide down and land on the crash mats below.

With see-through netting all around you are able to keep an eye on the children at all times. We also have a selection of other night and Dragon themed inflatables if you have an event which the suits please ask a member of staff I would be more than happy to give you relevant details and pricing.
---
Our hugely popular Obstacle Courses are always a huge hit with both kids and adults! They can run throu
Looking for something fun for adults then why not book a Bungee Run to keep competitive, 'it's a knockout' vibe going.gh the sections and then down the slide at the end. It is suitable for indoor or outdoor hire weather permitting.
All Inflatable Assault Course Hire are Ideal for Team Building Events and Birthday Parties, or just to have a great laugh with friends!
All three of our large Themed Inflatable Assault Courses for hire: (

Dragon Castle

,

Pirate Ship

, and

Huge

Green Course)

are also available for hire with our foam cannon to add another (slippery) element to the Inflatable Assault Course Hire.
Obstacle course/ assault course Booking and Delivery
To book an obstacle course/ assault course or fun run then call us now on 07967 955773 or fill in the Contact us page.
We are happy to deliver our obstacle course/ assault course hire equipment across Carmarthen, Cardigan, Crymych, Pembrokeshire, Llanelli, Aberystwyth, Aberaeron, Lampeter and Surrounding areas including Swansea, Cardiff and further afield if needed however a small delivery charge may apply!