Pluck A Duck Electronic Game hire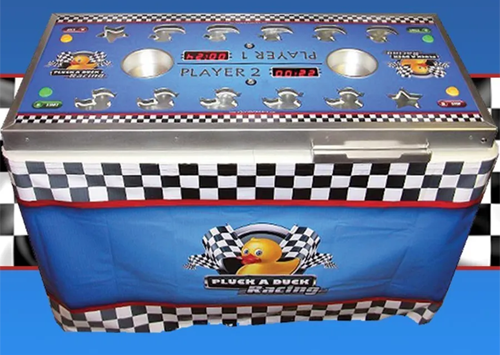 Pluck A Duck Hire for corporate days, wedding entertainment and parties in Carmarthenshire, Aberystwyth, Swansea, Cardigan, Lampeter, Llanelli, Llandeilo, Burry Port and across West Wales, Aberystwyth
Remember the old fairground game where you have to hook a duck using a pole with a hook on the end? Remember Operation where you had to remove body parts using tweezers and a steady had so you didn't touch the sides? Well we've combined the two to make a brand new game with all the excitement of both, and made it a head to head race to add even more fun.
Our pluck a duck game looks easy but is frustratingly hard. Each player has a magnetic probe to pluck their ducks with, and each has five ducks and a star that need removing without setting off the alarm. The first to get all their ducks out safely, plus the star, is the winner. It's a hard enough challenge on its own, but head to head it's even harder as the tension builds.
Pluck a duck is great fun for all ages, and you'll often find the kids have a steadier hand than the grown-ups, making it a great leveler at family parties like anniversaries, christenings and weddings. It's also great fun at 18th and 21st birthdays, watching as your guests' co-ordination falls away as the enjoy a drink or two!
Pluck A Duck Hire in Carmarthenshire
The pluck a duck game sits on any flat surface and comes with a wrap-around cloth to advertise the game at fundraisers, fairs and charity fetes. And because it's so addictive, you'll find players coming back time and time again to better their score and boost your funds - which make this game ideal for corporate events.
Pluck a duck is just one of our huge choice of electronic games for hire in Wales and the surrounding area, including the hilarious tap the app for smart phone addicts. Talk to our friendly team to find the best one for your group and your budget. You can complete the form on our contact us page or you can get in touch using the details below.
If you require any catering then please see our fun catering page to see how we can provide the full catering nd fun hire package for your event. Our sister company www.hhrcatering.com provides wedding and hog roast catering if required.