Kick 'n' Stick Football darts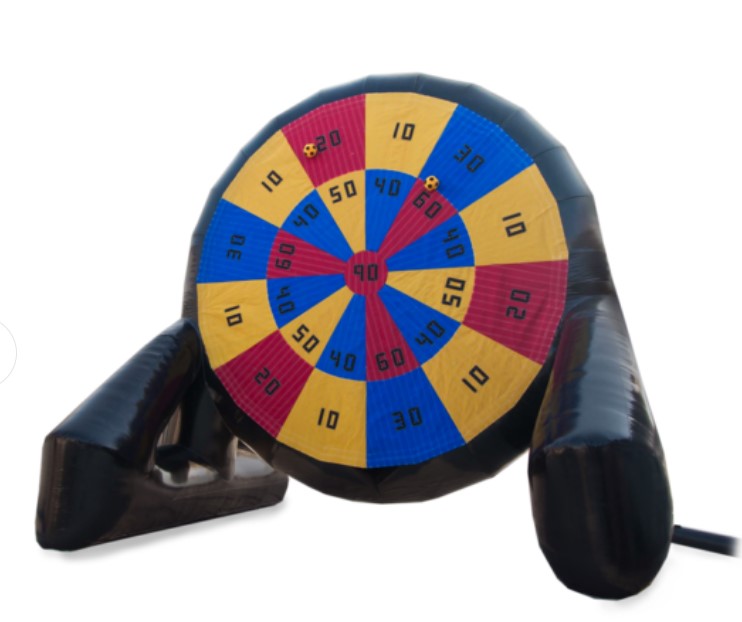 With this impressive 4.5 m Kick 'n' Stick Football darts game hire which challenges you to your accuracy in football darts. Brilliant for team building/ corporate events, charity and school fun days. You have three balls to score as many as you can. Could you hit 180?
£295

Introducing our giant kicking stick darts, this ingenious piece of party kit mashes up our beloved football game and darts to see how good your aim is an accuracy.
With this being double sided you can enjoy endless amounts of fun either side with your traditional gameplay with trying to score a bull's-eye or just beating your mate by scoring higher with these brilliant Velcro balls a really does put an epic twist to any garden party corporate event or school uni levers party.
Kick 'n' Stick Football darts / Velcro darts

Whether being a massive football fan or darts fan watching your favourite player at the okey you can just get down and make it all fun whether it's scoring the highest all working in teams to be each other it's a great icebreaker. With its impressive size it can easily handle any size party or charity event with its quick turnover of games. So why not have a go to test your accuracy stamina and have a go at our giant kicking stick football darts.
When this just being one of many of our giant garden games interactive games and competitive games there are so many to choose from where if you wished you could combine the kick in stick football with our inflatable school goal and our large inflatable dartboard which stands an impressive 8 feet tall. With these three giant games alone will make any event one to remember. If you'd like to see a larger range, please go to our giant games page
Kick 'n' Stick Football darts Giant Velcro shooting products are great for pulling crowds.
*INCLUDES VELCRO BALLS*
Dimensions in ft: 12.5 x 15.1 x 14.3 (L x W x H)
For any catering for your event then please visit www.hhrcatering.com