Multi-colored Unisex Mini Bouncy Castle for hire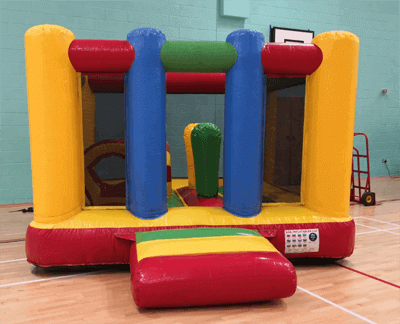 Fun Hire Wales is proud to offer this colourful unisex Mini Bouncy Castle/activity bouncy castle hire for children up to the age of 8 years old. The activity bouncy castle comes with a couple of biff bashes and pop-ups this will keep the little ones entertained.

Here is a multi-colored midi bouncy castle, ideal from tots to toddlers with visibility all around and safety netting, there is abundant of fun things to do to keep them amused and entertained with a 'Bish Bosch' shapes.
With this unisex Mini Bouncy Castle being small and very low in height it will fit into most small village halls and family centres and provide hours of fun with its attractive colours which will get your little one's senses overwhelmed.
This unit can be hired on its own or as part of a soft play package for birthday parties weddings social groups mother and toddler mornings and many other events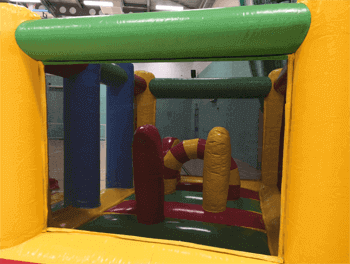 Great fun with good visibility due to the netted sides.
This unisex activity bouncy castle is great for toddlers thanks to the already mentioned shaped and bashers found inside the castle. We have many items in our toddler hire page that we are happy to package with this castle such as themed soft playsets, ball pits, Diddy Cars and more.
Unisex Toddler friendly bouncy castle hire
Width: 9.48ft / 3m (required 12.5ft / 3.5m)
Length: 12.46ft / 3.8m (required 18.5ft / 4.3m)
Height: 8.2ft / 2.5m (required 8.8ft / 3m)
Suitable for indoor on hard surfaces
Suitable for outdoors on grass
£100
All major credit cards are accepted. Hassle-free booking.

All bouncy castle hire is available with hire packages and money-saving add-ons. Please call 07967 955773 for details

You can read our frequently asked questions page for more information and book using This email address is being protected from spambots. You need JavaScript enabled to view it., or phone thanks
The more bouncy castles and or add-ons you order the more you save.