Boxing Machine Hire Wales
We have four Boxing Machines available for long or short-term hire in Carmarthenshire, Ceredigion, Pembrokeshire, Llanelli, Bury Port, Swansea, Cardiff, and Pembrokeshirel areas. We are the Boxing Machine Hire Wales specialist. Why not hire a boxing machine for pubs, clubs, or events. Pay for the hire for your events and then provide unlimited goes or charge per go for great money-making potential. It always gets people involved and happy as well as working well in large groups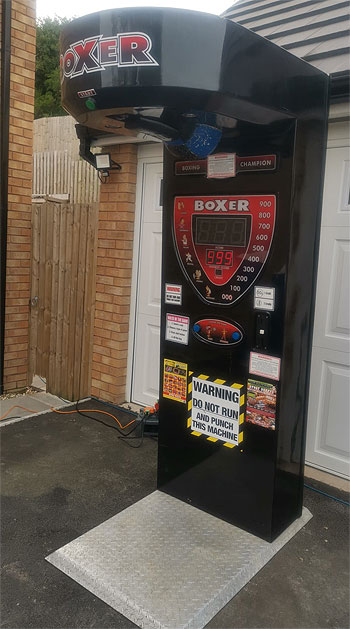 Fun Hire Wales has been offering Boxing Machine Hire (with a choice of 3 colours being blue, red, and black) for almost 11 years throughout Wales for corporate functions, private parties, and fundraising events.
How Punch Machine Hire Can Make you a passive income in Wales
Hire one or all and make money over the duration of the hire. Flexible terms offered. If you own a gym or a caravan park these always make money.
Boxing machine hire; Bar pub game hire
Boost your trade and start a competition... hire one of our boxer machines and set a challenge for your customers and offer a free drink to the winner with the highest score at the end of the week. It is going to stand out from the crowd and you can decide how long you want to hire the machine for. From on night only to a long term lease; you decide.
Arcade Direct Boxing Machine Rental Service
We are your one stop shop for fun arcade machines. We have worked with big names in the past across Wales. It doesn't matter what kind of event or party you are having, there is always boxing machine that can lighten the mood and put a smile on everyone's face.
Arcade Boxing Machine Hire loaded with features:
* Measures player hit strength.
* Led lighting – low voltage consumption
* Waterproof – prepared for outdoor and indoor
* Stereo sound system (volume, low and high tones tuned)
* Electronic and mechanical counters
* Soft leather punch ball inflated with a rubber ball inside avoids hard impact
* Low maintenance for the hirer
* Flat solid metal base ensures stability
<< Back to Giant Games Hire Page
If you are interested in Boxing Machine Hire from Fun Hire Wales then contact us today on 01559 318113 . Discounts are available over the phone when hiring more than one machine.
£395

When you choose to hire a punch machine from Fun Hire Wales, we will take care of all the delivery and set up for you with minimum fuss.. After the event, we will also collect the hire item from your venue. We make it easy. So, what are you waiting for? Check availability and price with delivery by clicking the button above.