Inflatable Axe Throwing hire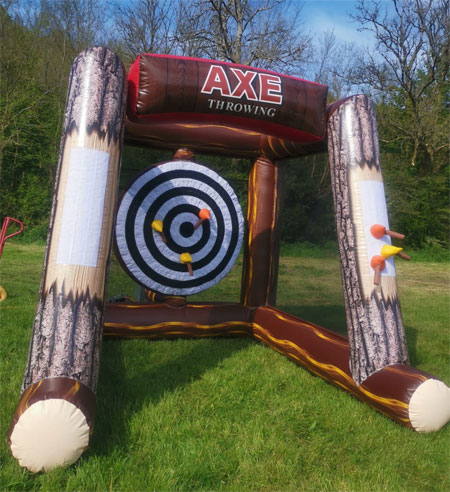 Inflatable axe throwing hire that lets you throw soft-made velcro axes at the board and see who scores the closest to the middle!
This unusual inflatable has a huge Velcro target at the back for you to aim at. It also comes with a full set of lightweight Velcro tipped axes for you to throw, with not a sharp edge in sight. Standing almost 9 feet high and completely self-contained, it can be used indoors or out, and it has a large wood effect sign across the top that is sure to draw the attention of curious crowds.
Give points or prizes for anyone on target, or pitch two throwers against each other to see who is the most accurate axe-man or woman. Once your contestants get the knack of this game things really gets competitive!
---
PLEASE CLICK BELOW FOR OUR ONLINE BOOKING SYSTEM, AVAILABLE DATES & PRICES
All major credit cards are accepted. Hassle-free booking.
To hire the 8ft Inflatable Axe throwing game contact Fun Hire Wales today.
£145


Book today
01559 318113 This email address is being protected from spambots. You need JavaScript enabled to view it.
You can read our frequently asked questions page for more information and book using This email address is being protected from spambots. You need JavaScript enabled to view it. thanks
<< Back to Giant Games Hire Page
As well as our Inflatable axe throwing hire, Below are more of our available to hire giant and garden games to help bring your party or event come to life