Inflatable Dartboard Hire Game
8ft Inflatable Dartboard Hire hire For Carmarthenshire, Cardiganshire, Pembrokeshire, North Wales Llanelli and Swansea, Cardiff areas.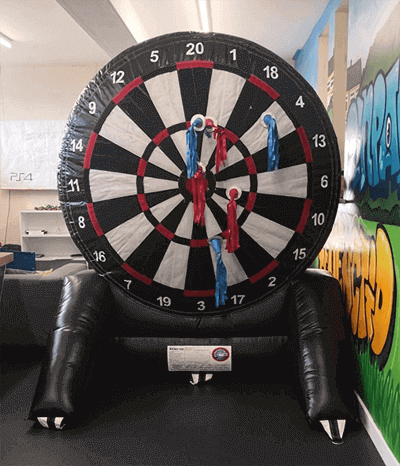 Play in a similar way to pub darts and score the same way. The games the same but it's a lot larger and inflatable.
£145

Giant dartboards are extremely popular for promotional events, open days, exhibitions, corporate event hire, and team building. The game comes complete with velcro bean bags. We also have other giant games to choose from as well as bouncy castles and assault courses.

The giant dartboard hire gives a fresh approach and the wonky Velcro balls provide maximum fun for all the family meaning children can play adults alike. This large inflatable hire item always goes down well with corporate and wedding hires across Wales.
The Inflatable Dartboard Hire game can be played however you wish, so whether you want to use it for normal darts games like 'round the clock' or 501, the choice is up to you. Hire inflatable darts for your next event and get the fun going with a competition. The inflatable darts hire is great for promoting maths as well, so when the kids play, get them adding the scores up. This is a reason that the game is usually hired by schools for their fun days and fundraiser events. Inflatable dart game hire will be enjoyed by all as there are no restrictions at all. Just make sure to throw the inflatable darts hard enough to make them stick to the Velcro board.
This attraction is great for Weddings, Shows, Fairs & Events, Corporate Functions, Football Tournaments, Fundraisers etc.
PLEASE CLICK BELOW FOR OUR ONLINE BOOKING SYSTEM, AVAILABLE DATES & PRICES
All major credit cards are accepted. Hassle-free booking.
To hire the 8ft Inflatable Dartboard contact Fun Hire Wales today.
You can read our frequently asked questions page for more information and book using This email address is being protected from spambots. You need JavaScript enabled to view it. or phone thanks
<< Back to Giant Games Hire Page
As well as our Inflatable Dartboard Hire, Below are more of our available to hire giant and garden games to help bring your party or event come to life