Inflatable joust Gladiator Duel Hire in Carmarthen and surrounding areas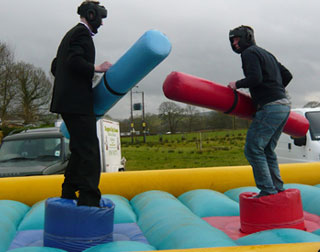 Inflatable joust Gladiator Duel Hire is a 1 on 1 combat game , each opponent wears protective head gear and stands on opposite podiums armed with a pugil stick, and the idea is to try and oust your opponent off whilst defending yourself against their attacks.
If you are looking for a teambuilding one-on-one interactive game gladiator duel is for you. Whether you look back in the Roman era where you had the gladiators battling against each other was the one left standing would be the winner with our inflatable gladiator duel higher brought into the 21st century with it being a soft inflatable bed to land on no one gets hurt.
You will stand on your soft podium to face your opponent with provided head guard safety and soft pewter sticks you will have the best out of three rounds to find your winner brilliant for birthday parties University events end of school leavers parties village fêtes charity fun raising days.
Gladiator duel can also be hired along with our sumo suits, adult sumo suits and children sumo suits so everyone can get part of the action a brilliant combination for battling with each other please have a look on our other giant games page and site stalls for more things to add or change your event.
Gladiator Duel Hire Suitable for all ages
The Gladiator Duel can be used by both Adults and Children bringing loads of fun to Birthday Parties, Fun Days, Corporate Days or just mates wanting a laugh.

Length 17ft, width 21ft, height 4ft
PLEASE CLICK BELOW FOR OUR ONLINE BOOKING SYSTEM, AVAILABLE DATES & PRICES
£265

Book today on 01559 318113