Pink Combo Castle Hire (includes a slide)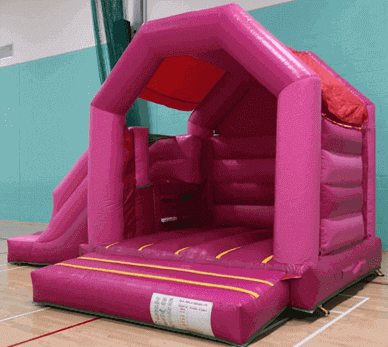 The Pink Combo Castle Hire is popular with girls up to 12 years old. The castle is strong enough to accommodate adults as well so the whole party can get involved. This pink bouncy castle comes complete with a rain cover to help keep the rain out. We have a blue party version if you are looking for a his and hers castle hire package. Call for details thanks.

Dimensions: 16ftx 12ft
Location Suitability: Outdoors & indoors (subject to space)
Venue type Suitability: The Pink Combo Castle can be used at any event including fetes, school activity days, fund-raising events, summer play schemes, weddings, playgroups, and private parties.
Age Range: Great for all ages up to 12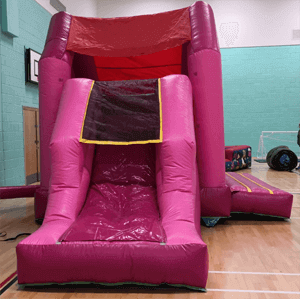 Description: Our Pink Combo Castle for hire features a slide and is a great attraction. Hire this multi-purpose inflatable castle for a fantastic attraction at any event or party. With our combo castle being the slide on the front, it makes it very easy to fit into the smaller village halls, unlike the previous style that would have the slide on the side, taking up twice the space.
Great add-ons: Diddy cars, soft play, giant games, fun catering (candy floss & popcorn makers)
£140
All major credit cards are accepted. Hassle-free booking.

Please call 07967 955773 for details
You can read our frequently asked questions page for more information and book using This email address is being protected from spambots. You need JavaScript enabled to view it., or phone thanks
The more bouncy castles and or add-ons you order the more you save.