Palm Tree Slip n Slide (Water Slide Hire)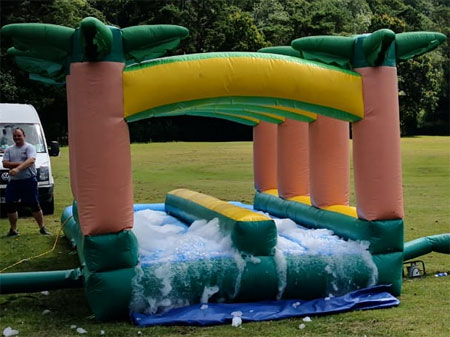 Water Slide Hire Carmarthen such as the 2 lane Hawaiian-themed slip n' slide or, basically a giant water slide, complete with palm trees and area for either a ball pit or water. The Palm Tree Slip n Slide is always popular in hot weather for obvious reasons!

Summer parties in Wales will never be the same thanks to this. This beauty is great for wet and wild fun. Great for competitive racing, this inflatable features 2 lanes so participants can race their friends to the finish line. Make your way under the arches of beautiful palm trees to the refreshing splash pool at the end. This slip and slide are perfect for tropical theme parties, Hawaiian luaus, or just for some cool fun during those hot summer months.
Great hire item for fun days, fundraising, and creating unforgettable parties.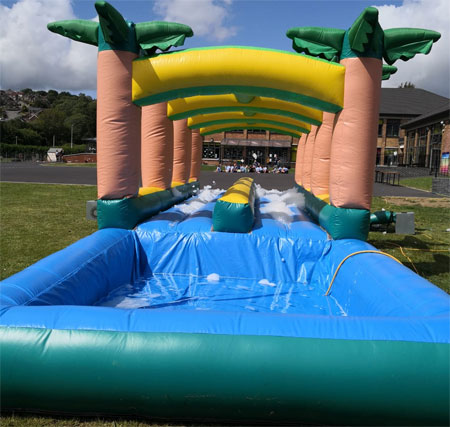 Inflatable Slip and Slide Rental, Carmarthenshire-based Water Slides for children's party entertainment You and your party guests will be ready to do time and time again!
What We Need From You for this Water Slide Hire
Space!!! In obtaining this rental the most important thing is to have enough space for this giant water slide to fit in place. You should have at least 40 feet in length and 12 wide for the slip n slide. The pictures here will give you an idea about how the Tropical Slip n Slide Water Slide looks & sets up.
The next most important thing is to have adequate height at your location which should be at least 15ft tall for the slip n slide. So keep in mind tree limbs that may be in your yard that hang down. Of course, if you're in a field no worries then.
Water & power source needed or it can be set up with just multi-colored balls from our ball pit hire options.
Huge Water Slide hire in Carmarthenshire
We also have a Huge 2 lane Wave Water Slide that is similar in size and visual impact to the Palm tree slide.


PLEASE CLICK BELOW FOR OUR ONLINE BOOKING SYSTEM, AVAILABLE DATES & PRICES for the Water Slide Hire Carmarthen

All major credit cards are accepted. Hassle-free booking.
£225

The more bouncy castles and or add-ons you order the more you save.