We have three Boxing Machines currently available for hire.
3 Boxing Machines available for long or short term hire in Carmarthenshire, Ceredigion, Pembrokeshire, North Wales, Swansea, Cardiff and Bristol areas. We are the Boxing Machine Hire specialist.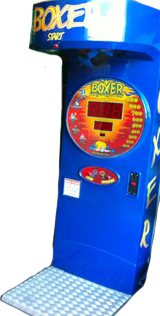 Why not hire a boxing machine for pubs, clubs or events. Pay for the hire for your events and then provide unlimited gloes or charge per go for great money making potential.
Fun Hire Wales has been offering Boxing Machine Hire (with a choice of 3 colours being blue, red and black) for almost 8 years throughout Wales for corporate functions, private parties and fundraising events.

Boost your trade and start a competition... hire one of our boxer machines and set a challenge for your customers and offer a free drink to the winner with the highest score at the end of the week.
Boxing Machine Hire loaded with features:
* Measures player hit strength.
* Led lighting – low voltage consumption
* Waterproof – prepared for outdoor and indoor
* Stereo sound system (volume, low and high tones tuned)
* Electronic and mechanical counters
* Soft leather punch ball inflated with a rubber ball inside avoids hard impact
* Low maintenance for hirer
* Flat solid metal base ensures stability
If your interested in Boxing Machine Hire from Fun Hire Wales then contact us today.