Foam Party Hire Wales
Foam Party Hire for childrens parties, fun days and nightclubs and student unions in Pembrokeshre, Ceredigion, Carmarthensire and Aberystwyth areas as well as Llanelli, Swansea, Cardiff an recently, clients in Bristol. We also travel to North Wales. Fun Hire Wales have a top of the range foam cannon for foam parties along with a purpose built, enclosed inflatable foam pit suitable for nightclubs, parties and events. Make your event or party a truly memorable one by adding foam!

There really is nothing like a foam party!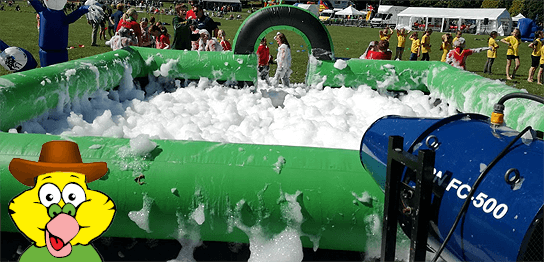 We supply foam parties for private parties, Birthday parties, Schools, Holiday parks, Youth clubs, student parties, college, university, Nightclubs, Under 18's, Adults, student balls, Carnivals, Street fairs, Summer camp & scout group foam parties.
We now have a new inflatable foam pit for the best foam parties you can imagine for children!
Please ask for foam pit hire details today.
The perfect Foam party hire for the smaller venue or outside Children's private event, don't be fooled by the word smaller this cannon is still more than capable of filling a room with foam.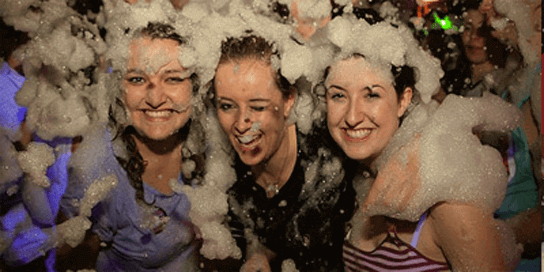 With its patented dryer foam, the perfect cannon for the more discerning venue.
We are able to offer a range of bespoke party packages to suit every budget, from small back garden Birthday parties to complete nightclubs. With every booking we provide 5 million pound public liability insurance cover for all foam parties and venues, friendly, trained staff to operate the equipment . We are able to supply the machine and pit for any time periods, day or night depending on your requirements.
Our staff will set up the equipment and also brief the venue staff before the function starts on our safety procedures and make sure everything is clean and dry at the end of the event.
Your can read our frequently asked questions page for more information and book below or email, Facebook message or phone thanks